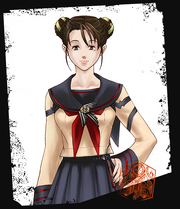 Asuka Yachiho is a Character of the Kowloon Youma Gakuenki (Kowloon Demon Academy History).
Profile
Gender: Female
Birthday: April 29
Blood Type: O
Club Activities: Tennis Club
About
Kamiyoshi Academy 3rd year group C. Nickname is "Yacchi". A cheerful, cheerful and friendly girl with a hair under two eyes and a mole under her eyes. It should be an ordinary person, but the smash that comes out of that racket has the power to defeat the ghosts lightly. According to the director, it is only the level of general high school girl tennis player of the World. In addition to smash as a means of attack, he has the skill to reflect enemy's shooting attacks.
Community content is available under
CC-BY-SA
unless otherwise noted.