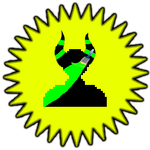 Mad Monster Elmo


Variant

Bowser-like Elmo

Shader

Normal

Shader Color

Color: Same as original
RGB: Same as original
Hexidemical: Same as original

Accessories

Bowser-like eyebrows
round white eyeballs
Bowser Jr. horns, orange nose
Red Fur
sharp teeth

Universe

Muppet

Found in

Sesame Street (Belly Breathe song)

An Aggressive Elmo is a variant of Elmo. The monster was transformed in the song when he got angry after "Common" mentioned there was a monster. He reverted back to normal after breathing.