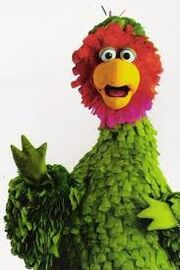 Abelardo is a green, full-bodied Muppet parrot who appears on Plaza Sésamo, the Mexican co-production of Sesame Street. Abelardo, originally called Serapio Montoya, joined the cast in 1981 and soon became the show's most recognizable figure.
Abelardo also guest starred on the American Sesame Street on May 5, 1997 in episode 3646 as part of the Cinco de Mayo celebration. He met his cousin Big Bird for the first time after looking for him all over the neighborhood with Telly. Oscar picked Abelardo up at the airport and taught him one English word: "Scram" (much to the annoyance of Telly). Although this was his only American appearance, he was mentioned in episode 3784 and is seen in a picture, as one of the items of nest. On the Mexican show, he occasionally keeps contact with his cousin via letters and video-chatting.
When Abelardo first appeared on Plaza Sésamo, he had a deeper more parrot-like voice and a dopier personality. Much of Abelardo's design qualities have stayed the same, with one noticeable difference being that he originally had magenta and bluish-green feathers around his legs. When the show was updated in 1995, Abelardo was slightly updated as well, becoming more of youthful character. Design adjustments included more red and pink feathers added around his head and neck, and the frills on his legs being replaced with Big Bird-like rings.